Build Your $5k/Month Marketing System
2021 is right around the corner.  NOW is the time to prepare so you're ready to ROLL.
With
some fundamental tools
a little elbow grease (really fingertip grease on a keyboard)
someone to show you how to put it all together
You CAN be ready to have 2021 Happen FOR YOU.
Put 2020 behind you in this 3 week, six session course that will prepare you to finally start making real money online in 2021 and beyond.
Module 1 - Find Your Crowd
Monday December 14th - 7:00 PM CST
Learn how to create your own market place on the Internet.  Find the group of people you can best serve.  Create your own "Category".  That way you can serve that group of people like no one else.  You'll be a rockstar!
Module 2 - Copywriting Essentials
Thursday December 17th - 7:00 PM CST
Learn the basic formulas for creating messages that will resonate with your crowd.  These fundamentals are easy, repeatable, and extremely lucrative once you master them.  You'll be ready to shine, by the time we're done.
Module 3- Authority Website & Blog
Monday December 21st - 7:00 PM CST
Now that you know your "Who", and what you want and need to say to them, you have to build a relationship with them.  By having an Authority website and blog, you can create content that provides value and put it in front of your crowd.  But don't worry, this won't be as hard as you think.  You'll get the hang of it in no time at all with DropFunnels.
Module 4 - Funnel Basics - Lead Gen
Wednesday December 23rd - 7:00 PM CST
You've been through a marketing funnel.  We all have.  You know, when you get to that page that says, "Hey put your email address in and we'll send you something you really want."  Then once you get the thing you asked for, you get pitched on "Would you like some help with that?"  That's how marketers work.  And it all starts with generating leads.
Module 5 - Building The Relationship
Monday December 28th - 7:00 PM CST
Now that you have your crowd, you're sending out messages that resonate with them, you're offering them something of value in exchange for their email address, it's time to build the relationship with them.  This can be automated, and done through email.  There are other ways (like messenger bots) but let's start with the traditional tools.
Module 6 - Creating Offers
Wednesday December 30th - 7:00 PM CST
With a budding list of people that are interested in getting the help you can provide, it's time to start reaping the rewards.  Internet marketers that make substantial money don't just sell a product.  That puts you into a "ME TOO" scenario, and that's a tough game to win.  Add value to your products and create OFFERS, then it will be easy to win.
I'm running this course for free.  Why am I doing that?
Because if I help you succeed perhaps I can include your picture and testimonial below! 🙂
Social proof is a very important piece of the marketing puzzle.
This is a new offering for me, so you'll be my first to go through it.  I am teaching well known techniques.  I've put much thought into who I want to stand out for.  You have had this page shared to you because you are part of "my crowd".  I am applying these well known techniques in a way that will be customized to what you do, and how you need to implement them.
By the time this couse is over, you WILL be able to build your marketing system before the new year, if you take action and follow the plan this training lays out.
So, I highly recommend that you pay attention to what I am doing here.  This is very much like the work you'll be doing once you have your system in place.  Create value for some people for free (or reduced pricing), get testimonials, then sell the result and use the testimonials as your own true, valid social proof.  That helps with your "authority status".
This is where your case study and testimonial will go.  Once you complete the work and have your $5k/month system built, we can talk about it and what you're now able to do with it.  
Matt S - Digital Marketer
This is where your case study and testimonial will go.  Once you complete the work and have your $5k/month system built, we can talk about it and what you're now able to do with it.  
Karen W - Marketing Consultant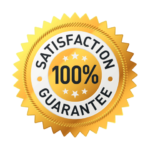 Your success is my goal.
In order to offer a guarantee for a free class, all I can do is guarantee I will do everything in my power to see to that you're satisfied.  Let's face it...if you're not satisfied, then you won't want to provide a testimonial, and I won't have accomplished my goal.  I guarantee I will give you my best during this course and after.